Let Anita's Jewelers help you design the wedding ring set you dreamed of for that special day. Here are just a few categories of ring styles that Anita's Jewelers in the Treasure Valley can start with to make your perfect wedding set: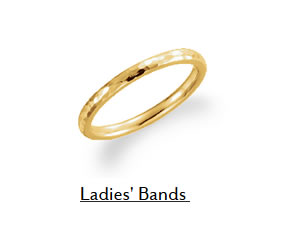 Here are just a few examples of custom made wedding bands for our customers. Remember we can always pull the diamond or stone out of your old ring or a stone passed down from past generations to create the perfect ring!
Ladies diamond white gold diamond wedding set, etched gracefully with delicate marquise shape design. Inset with diamonds. You could for a wider width look at a additional stack-able wedding band on each side.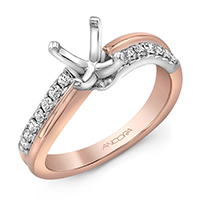 Rose gold and diamond engagement ring that comes in rose, yellow or white gold. Intertwined with diamonds and a additional wedding band could be added to this smooth line. Can be set with your diamond or we can help you pick out a diamond from our inventory.
Delicate lines of gold and diamonds interwoven yellow gold and diamond engagement ring. Matching wedding woven wedding band is available. Mounting can be adjusted to fit almost any size of diamond or cut of diamond.
Contact Anita's Jewelers for more information and full line of Wedding Sets.